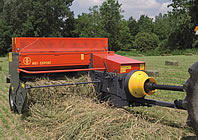 Founded in 1896 as manufacturer of threshing machines, the company is now specialised in the production of square balers, round balers fixed chamber, chain and bars type and mini round balers.
Manufacturing is developed with the assistance of CAD/CAM system, metal cutting and metal forming CNC machine tools.
More than 80% of the overall production is exported to more than 40 countries worldwide.